I know I'm not the only one who is Crazy 4 Fluff;
That is evident by the 1,000+ blog followers I have.
I would love to hear about you, your kiddos, your stash
and your life!
Answer the below questions and I will post one new
Fluff Addict every friday!
If you have a blog you can let everyone know
that you were featured over at Crazy 4 Fluff
as this weeks Fluff Addict!
Here is what I (& other mamas) want to know: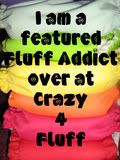 So If you want to be featured please answer the questions
and gather some pictures (optional) and email me at
crazy4fluff@yahoo.com